Yes, I know. It's almost June and spring is here. Thank God winter is over. Obviously, this particular post is a bit overdue.
One of the biggest frustrations I had with trying to keep warm in the wheelchair was that no matter what we did or what I'm warm. I would still get this cold draft coming up from the small of my back. In addition, I would very often feel the cold for my jacket rather quickly around my shoulders and upper arms. Even though my Milwaukee heated hoodie was working great. It couldn't help with some areas.
So I started looking at poncho ideas. Obviously the first ones I looked at were wheelchair ponchos. These looked okay but seem to be more have a cover for the wheelchair occupant that covered the legs arms and top of the back wheelchair. They kind of tapered towards the front E.g. Long enough to cover the knees on the front, but only just past the shoulders on the back. Would do nothing to keep the back warm.
That and it also cost upwards of $200!
… Not to mention that you look like a fashion reject from an old folks home.
Start doing some shopping around I found the
snug pack poncho line
r. Usually priced around $100, but I found it for about
$50 on Amazon.ca
(the price has since changed)
It is extremely light, huge and surprisingly warm. It is insulated with the material called travel loft, similar to prima loft. It's not really rated for the deep cold, only to about 10°. But as an additional layer. It works extremely well with all my other winters got. I was outside for long periods (well over an hour) at less than -20°C. It made all the difference.
It is meant for some pretty hard-core outdoor type activities and the military. So the back of the poncho is really quite long, designed to go over a backpack. What this means is when you put on and then sat down in the wheelchair, it covers my back all the way down to just about my knees. Using the poncho, I never had that cold draft going up my back.
It is windproof and water resistant. So by itself, I would not use it in the rain (it is intended to go inside the enhanced control poncho) but I wouldn't worry about it in a light drizzle.
Putting it over top of my winter coat and tucking it down it worked great as a windbreaker and greatly improve the cooling problem I was having on my shoulders and arms.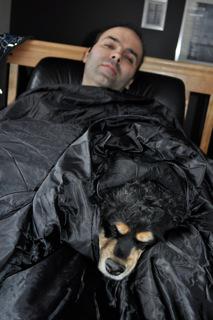 my dog found the hood to be
pretty great
It is really easy to put on and big enough that if you so choose you have more than enough to cover the headrest and the back of the wheelchair yet of talking in. The hood is also great, it tightens up fairly comfortably to help keep out the draft.
I have also used it as a regular blanket around the house to keep warm. In less extreme temperatures I had even just use the poncho without a coat. It's been quite convenient.
I am very happy with the purchase, it does a great job.